Barbecue grills can be great for summer gatherings and everyday meals. But they can also get quite dirty and aren't exactly easy to clean. A few years back, one enterprising entrepreneur decided that this somewhat messy niche could make for a great business opportunity. And Bar-B-Clean was born!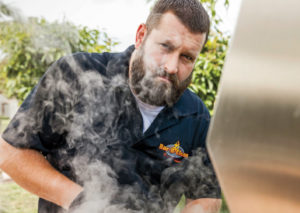 What does Bar-B-Clean do?
Cleans and maintains barbecues.
Founder Bryan Weinstein told Small Business Trends, "Bar-B-Clean exists to reduce the amount of grills people have to replace. Barbecues are expensive investments that are expected to last many years. Exposure to rain and sun will prematurely age them, discolor them, and make them look old and dirty. Bar-B-Clean offers residential and commercial customers a convenient, low cost grill cleaning solution. In addition, Bar-B-Clean also offers part replacements, stone rejuvenation services and rodent removal."
Our Niche
Doing the dirty work.
Weinstein says, "Did you know that every year, 7,000 Americans are injured while using backyard barbecue grills? At Bar-B-Clean, we take safety seriously and go the extra mile to offer advice to our customers during appointments. In addition, the very nature of our services helps keep grills clean and people healthier. We remove metal bristles, rodent droppings and more. It's a dirty job but someone has to do it."
Click here for the full article.
For more information about Bar-B-Clean franchising opportunities, please follow this link.